are you a member of a craft circle? i've wanted to be for a long time, and i recently joined a new chapter of the brown owls that's started in my area.
yesterday i had the pleasure of teaching my fellow brown owls how to cross stitch. being super clever crafty peeps, they all picked it up quickly, and were stitching away confidently at cute deer and sweet messages in no time.
before our meeting i was thinking about what useful tips are worth imparting to new cross-stitchers, and i made a bit of a list. i thought it might be useful to share it here as well.
useful tips for beginner cross stitchers:

keep your hands clean. because you handle embroidery so much more than other sewing projects as you do it, it can start to look pretty grubby after a while if you don't keep your hands super clean.

it's often best to start from the middle of the pattern and aida, and work outwards. it makes the pattern a lot easier to follow, and it keeps your work (relatively) well centred. some cross stitchers even mark the stitches they've already done on the pattern, in order to keep track. if you want to do this, i'd suggest either making a copy of the pattern and marking on that, or using a soft, erasable pencil.

people have different ideas about the best needles to use, and at the end of the day, i think it's a matter of taste. personally, i like a size 8 embroidery needle.

don't secure a new thread with a knot. knots will create bumps in your fabric, and are also difficult to stitch around. instead, when beginning a new thread, leave a tail that is around 2 – 3 cm long, and stitch over this as you make your first cross stitches on the front of your aida:

secure your ends in the same way, by tucking them back under the stitches on the wrong side of your aida.

always keep your stitches in the same direction. it doesn't matter which direction you choose:

or

…but being consistent will mean you have a much neater finished piece.

don't use long pieces of cotton. not only does it tangle more easily, but aida is quite course, and it actually strips the thread as you pull it through the holes. long pieces can end up looking quite sad and spindly by the time you get to the end of them, and that can make your work look inconsistent and somewhat bedraggled. thirty centimetres is the length you should be aiming for.

if you make a mistake, unthread your needle and use the blunt/eye end ti carefully unpick the stitches you've done. using your sharp end can sometimes split and fray the thread, which means that you then have to undo all of the stitches that you've done with that piece, rather than just a few.

finally, it's always useful to have a cross stitch alphabet - you can do heaps of cool little patterns with it. so, here's one i've put together for you: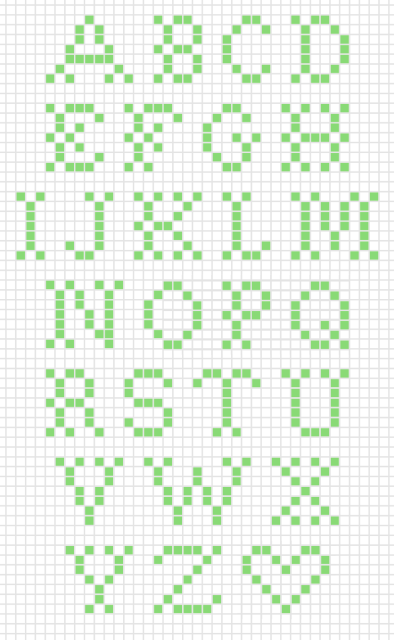 have fun!
essie xoxox
Tags: embroidery, free patterns